Welcome To Mulberry Lane Farm!
"You can taste the difference!"
Organic Produce
We are a sustainable family mini-farm in central Illinois, operating on 1.4 acres. Our emphasis is on quality organic strawberries and other organic produce. We are proud to be the only organic strawberry farm in Illinois!


HOURS: Our local farm fresh produce store is now open for the season.
Monday thru Sunday 8 am to 8 pm.
Beautiful fresh picked organic strawberries!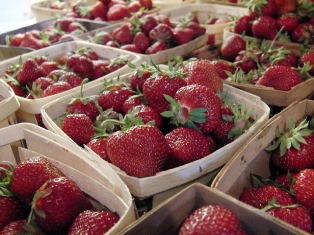 ***PLEASE CALL BEFORE COMING TO U PICK STRAWBERRIES TO CHECK ON PICKING CONDITIONS! 217-386-2690***





U Pick strawberries is picked out and now closed for Memorial Day, May 29th. We MAY be open for U Pick again Wednesday, May 31st. Check back. Open 8 am - 8 pm.
Open Monday thru Saturday, 8 am - 8 pm. Strawberries will last until around June 03 or so.

Prices for U Pick Strawberries are $2.99 per lb with a no minimm required at this time.

Already picked strawberries are also available! $5.99 per lb. Please call ahead and reserve!





Bulk Products
You are at the right place for organic food (all our USDA Certified Organic products are non-GMO and glyphosate free; no Roundup!) and canning supplies. Buy in bulk and save BIG money!

We offer secure shopping and fast shipping, all for an unbeatable price! Even though we use a PayPal Checkout, you do not need to have a PayPal account to purchase from us. Simply add your items to your cart and go through the normal PayPal check out and pay via your credit card.

Simply make your choice under "eStore" from the navigation bar at left!




From A Happy Customer!

Hello Helen,

I had placed an order from you via another online source, and was so pleased that I thought I would order directly from you. I am on a very limited income ($750) per month, but I am trying to slowly prepare my long term storage needs. I firmly believe that we are headed for some trouble, and as a senior citizen I realize that I may be in the group that will be most severely affected by any issues with food.

With that said, I wanted you to know that I was thrilled with the quality and cleanliness of the products that I purchased, and I will (after I finish paying of this batch) most certainly order again. You delivery was much faster than I expected, and I can't praise your product enough.

Once again, thank you!

Thank you,

K. M.



Questions?
We will be glad to assist you! To contact us by phone, e-mail, or mail use the "Contact Us" link in the navigation bar.




Directions
How do you get to Mulberry Lane Farm? To see where we are on the map, click on the "Directions" link in the navigation bar.