Tasty Organic Rhubarb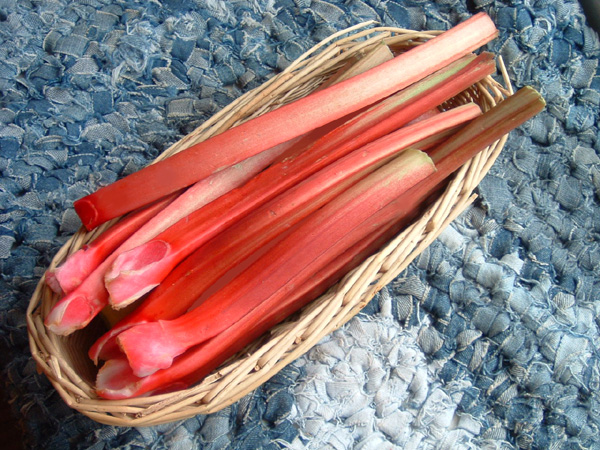 Use the 'Today We Have...' link on the navigation bar at left to check on availability and pricing.
Delicious, tart, and organic
Great for jams, drinks, and desserts
A great addition to any meal
Recipes:
Rhubarb Cake

INGREDIENTS
1/2 cup butter
1 1/2 cups white sugar
1 egg
1 teaspoon vanilla extract
2 cups all-purpose flour
1 teaspoon baking soda
1/4 teaspoon salt
1 cup buttermilk
2 cups rhubarb, chopped
1 tablespoon all-purpose flour
1/4 cup butter
2 teaspoons ground cinnamon
1 cup packed brown sugar

DIRECTIONS
In a large bowl, cream together butter or margarine and sugar. Beat in egg and vanilla.
In another bowl, sift together 2 cups flour, soda, and salt. Add sifted ingredients alternately with buttermilk to creamed mixture.
Toss rhubarb with 1 tablespoon flour, and stir into batter. Spoon batter into buttered 9 x 13 inch pan, and smooth the surface.
Blend together 1/4 cup butter or margarine, cinnamon, and brown sugar; sprinkle evenly over batter.
Bake at 350 degrees F (175 degrees C) for 45 minutes. Serve warm with ice cream.