Asparagus is the first garden vegetable of the year!
Our customers at the Mulberry Lane Farm stand in Loda
can hardly wait to get it each year!
Asparagus is a tough vegetable to grow organically
but the hard work of weeding and bug control always pays off!
The delicious, tender vegetable is prized by our customers each year.
If you have never had fresh asparagus, you will find this a delightful surprise!
Mulberry Lane Farm asparagus sells very quickly,
so you reserving is a must!
Use the "Today We Have..." link in the navigation bar at left to purchase.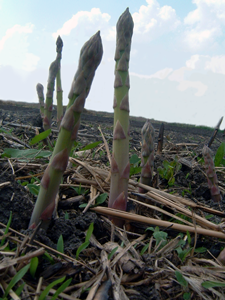 Tender all the way to the ends
Asparagus is high in Folic Acid, potassium, fiber, vitamins B6, A, and C, and thiamin
Asparagus contains no fat, no cholesterol and is low in salt
Great for cooking and eating
Recipes
How to Cook Asparagus
In a medium-sized pot, boil enough water to completely cover asparagus. Wash the asparagus. Do not break off the ends---when asparagus is fresh, the ends are tender and can be eaten. Place the asparagus in the boiling water and cook until a fork goes through easily (about two to three minutes). It is very easy to over-cook asparagus, so watch it carefully throughout this stage. When asparagus is cooked, remove it from the water and place on a serving tray. Serve hot with butter, salt, and Helen's Homemade Buttermilk Dressing!
Asparagus Swiss Quiche
INGREDIENTS
10 bacon strips, diced
1/2 cup chopped onion
1 pound fresh asparagus, trimmed
1 cup shredded Swiss cheese
1 tablespoon all-purpose flour
1/4 teaspoon salt
1/8 teaspoon pepper
1 (9 inch) unbaked pastry shell
3 eggs
1/2 cup half-and-half cream

DIRECTIONS
In a skillet, cook bacon over medium heat until crisp. Remove with a slotted spoon to paper towels; drain, reserving 1 tablespoon drippings. In the drippings, saute onion until browned; drain.
Cut eight asparagus spears into 4-in.-long spears for garnish. Cut remaining asparagus into 1-in. pieces. In a saucepan, cook all of the asparagus in a small amount of boiling water until crisp-tender; drain.
In a bowl, toss the bacon, onion, asparagus pieces, cheese, flour, salt and pepper. Pour into pastry shell. In a bowl, beat eggs and cream; pour over bacon mixture. Top with asparagus spears. Bake at 400 degrees F for 30-35 minutes or until a knife inserted near the center comes out clean and crust is golden brown. Let stand for 10 minutes before cutting.
(From Taste of Home magazine.)