Gerald Aardsma
Gerald Aardsma, Ph.D., is an author, scientist, and chronologist. Dr. Aardsma is currently involved in Bible/science research into the cause of human aging. He publishes a newsletter called The Biblical Chronologist.
Gerald Aardsma in Isreal during an archaeological excursion.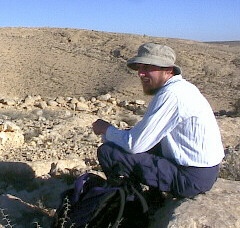 Gerald does most of the planning for the garden, looks after the greenhouse, and does a little tilling when he feels he needs a little extra exercise or a break from research. He has been doing organic gardening for over twenty years.
Gerald enjoys living in the country, working in his garden, taking walks with his wife, reading to his children, and singing.