Helen's Mulberry Lane Farm Journal
Spring News
All of you strawberry lovers will want to know the strawberry news---looks like the strawberries will start the first week in May. Keep watching our home page for updates. No appointments are necessary for u pick this year, but do call to check on picking conditions before coming out to the farm. Already picked strawberries will also be available.

Asparagus is now ready so head on over and grab a bunch. Calling first is a good idea as our delicious asparagus goes fast. You can also reserve some by going to the "Today We Have" link on the left. Our popular brown organic eggs are back for the season and pick up some organic sausage while you are here!





The kids check the weather each morning
and commiserate together over the frost warnings!
Frost warnings mean this!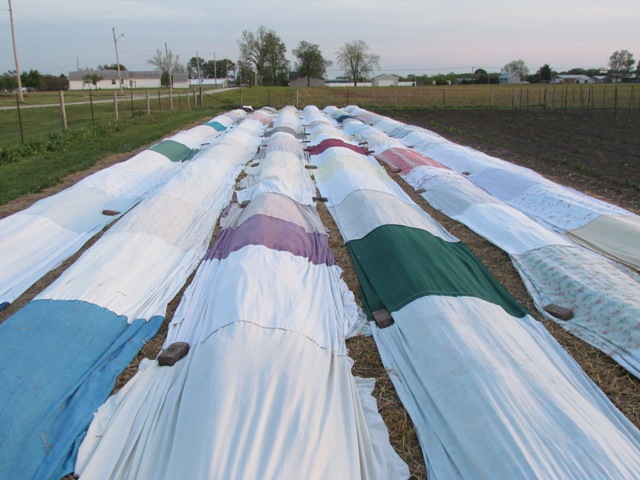 (By the way, our daughters make and sell these frost covers as part of our home business. Shoot me an email and let me know the length and width of the row covers you need and we will send you an estimate on the cost.)

I'm excited to announce that we have begun building our new Mulberry Lane Farm store! We hope to open our new facility in early June.




Ground breaking!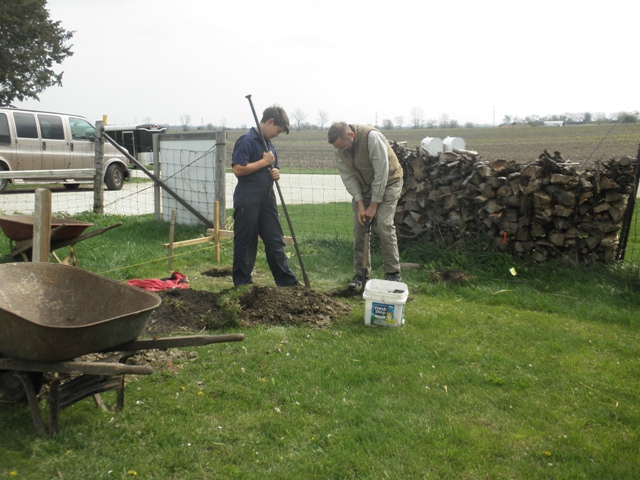 This past winter has been a blurr. Now that Matthew's wedding is over, I feel like I am coming out of a fog and my brain is clearing, and just in time for our garden season to begin. And wouldn't you know that our garden season is a full three weeks early this year?
I know many of you are eagerly waiting to hear about Matthew's wedding. I don't have time to write about the whole thing, so will post in several parts.
Sometimes, I just wish I could stop time, don't you? When Esther walked down the aisle to meet her beloved Matthew at the front of the church, I wanted to stop time. I wished the church aisle had been much, much longer! I loved the magic of watching the groom's face as he saw his "Queen" Esther, his bride, walk calmly and serenely down the aisle with eyes only for Matthew. She was floating on air.
But alack and alas, after months of preparation the wedding was over in a flash, the happy couple drove off into the sunset and a new home and marriage had begun.
When the day was over I was left with wrinkled wrapping paper, a home filled with beautiful fresh flowers, popped balloons, leftover pizza, candy and wedding cake, piles of suit jackets, white shirts and ties, discarded uncomfortable shoes, stacks of wedding gifts, a heart full to overflowing with joy and gratitude for such a precious, warm and joyful family celebration, and enough exhaustion that tears came streaming down my cheeks over just about anything and everything!
Well, I'm getting ahead of myself. Let me start at the beginning.
Ours was a very busy household for the last several months. Despite the work, there was so much joy and fun it is hard to record it all for you. Just take my word for it---it was a roller coaster ride!
Matthew's wedding was not a "store bought" wedding, but a very "homemade" wedding with many talented hands doing much of the work. It was neat to watch it all come together and special to have so many family and friends involved.
Rachel's fiance, Joey, did the photography for the wedding---he's an amateur, but the wedding photos he took are some of the most beautiful photos I've ever seen! We have over 800 pictures, and so many are my favorites, so I'm having a hard time choosing which ones to post.
Esther made her wedding gown and stunning is the only word to describe it. Among Esther's many talents, she is a beautiful seamstress and can sew while she talks, laughs, jokes and listens to music! Do you sense my awe? When I sew, I must have absolutely NO distractions.



Esther at her long awaited and dreamed of task!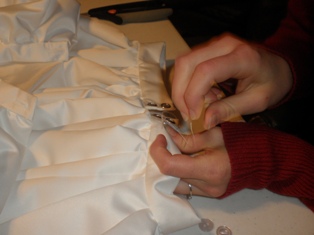 For the church program, Esther wrote a little narrative about sewing her wedding gown. I thought you would enjoy reading it.
I have always wanted to make my own wedding dress. The process began several years ago as I drew my first sketches. Bit by bit I refined my ideas: I knew I wanted a very full skirt and elegant sleeves.
The pattern I decided to use came out sometime last year. It wasnít exactly what I wanted, but I knew I could change the parts I didnít like. I liked the skirt, detachable bustle, and detachable train. I wanted to add a lace overlay in the front panel of both the bodice and the skirt, and I wanted to change the sleeves. In the end I used two other dress patterns to design a different version of the sleeves.
The fabrics I chose were 14 yards of matte satin and a classic-style lace. I also chose a rose patterned lace edging and a narrow rose-and-pearl trim.
I began work on the bodice first. I was about a dayís work from finishing it when I decided that I really wasnít happy with the fit. I was faced with either trying to fix it up or starting completely over from scratch in order to make it a size smaller. Finally I decided that I really wanted to feel comfortable and happy in my wedding dress, so I took apart the pieces I could reuse and started over. I covered ground quickly and finished the new bodice in record time. I am so glad I went to the extra work!
The bodice has 22 eyelets down the back that lace up with wide satin ribbon. The skirt has 4 eyelets that lace up similarly at the waistband. The bustle attaches with 4 white buttons at the back of the skirt waistband, and the train attaches with 10 buttons and 9 snaps at the bottom of the skirt hem. I used 7 yards of the rose-and-pearl trim, and 5 yards of the lace edging. It took me about 70 hours of work spread out over 4 weeks to sew my wedding dress.
You can imagine my excitement when I tried on the finished dress for the first time! And I am even more so wearing it now on this special day!
Rachel and 'Beka adjusting the wedding dress skirt for hemming.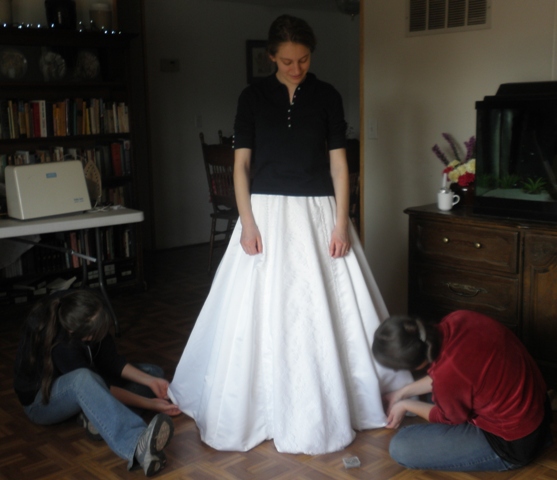 Matthew and Esther made their own
"Two Little Dutch Children" wedding cake.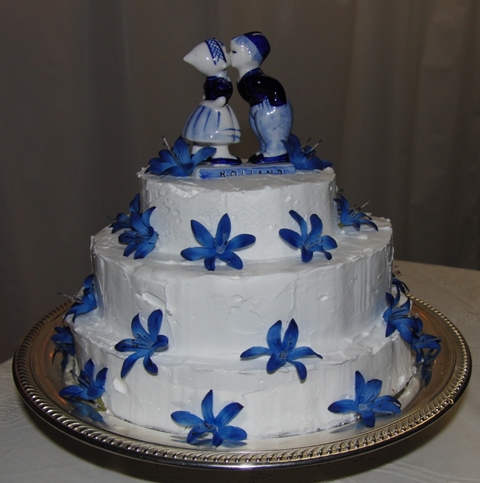 Rachel and Beka spent a whole day making
flat sheet cakes for the 200 guests.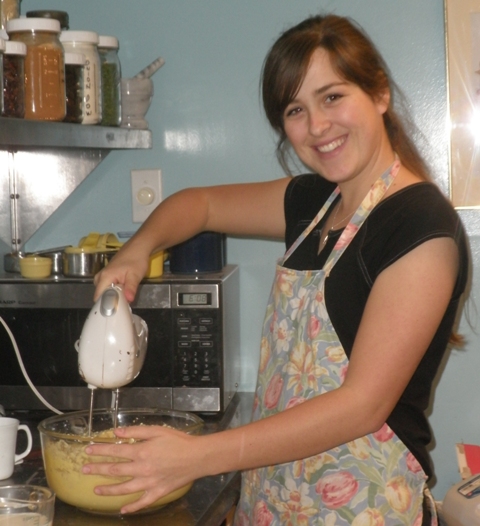 Esther made her bridal bouquet.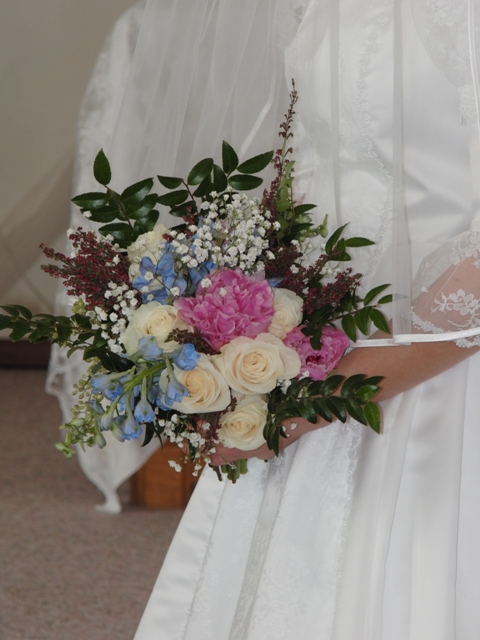 Rachel and Joey designed and printed the church programs.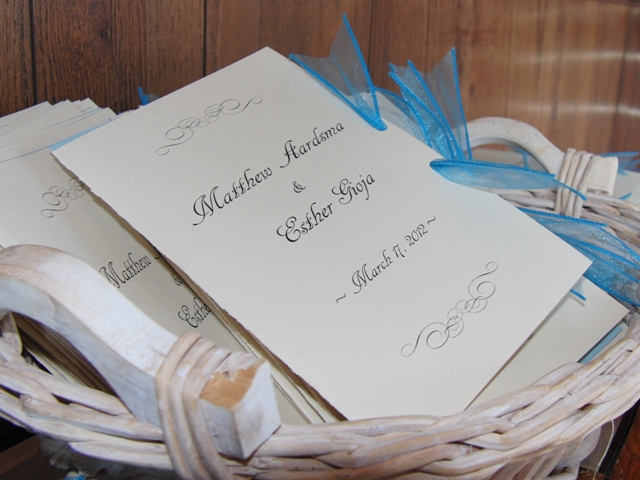 Matthew and Esther cleaning their car the day before the wedding.
Talk about excitement!
I have never seen Esther hyper before.
Matthew...always. Esther...the calm, cool and collected one?
But then again, who can blame her!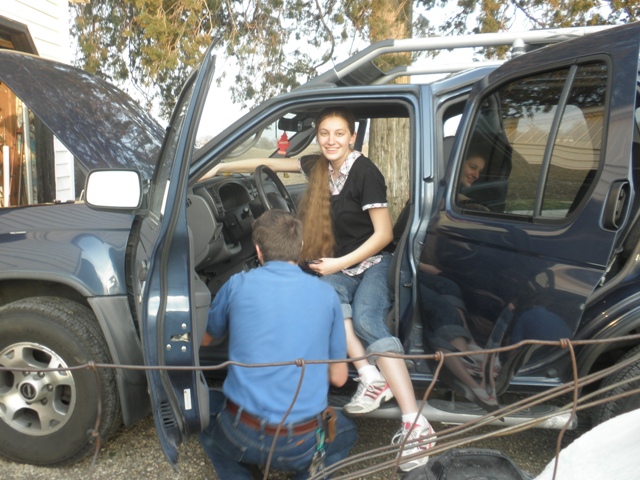 I keep forgetting to tell you that Rachel made a neat video about the
Four Seasons on Our Farm. Check it out! (Scroll about half way down the page to see the video.)


More wedding photos coming soon!

Happy Spring!

Blessings,
Helen

P.S. We will be making rhubarb pies and rhubarb bread as soon as next week so shoot me an email if you want to place an order!