Helen's Mulberry Lane Farm Journal
Joey's maternal grandmother made
this beautiful quilt as a wedding gift.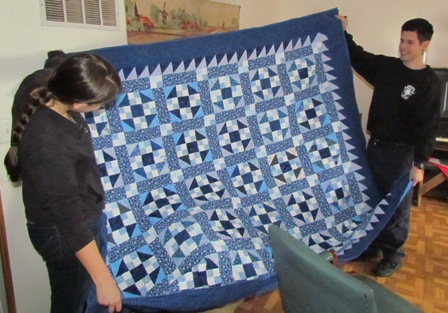 Rachel's Wedding, Part Two
The next biggest thing on the list for wedding planning and purchases for Rachel was deciding who will be in the wedding party and what on earth will they wear?
Wedding Party
Rachel asked her sister Rebekah ('Beka) to be her bridesmaid. They have been best friends for years. It was very meaningful to them both. Joey asked his brother, Josiah, also his best friend and confidante to be his best man.

Rachel was looking for "meaningful" versus "large" wedding party. And with so many siblings on each side of the families, it can get really complicated, not to mention expensive really fast.

I think the small bridal party was perfect for who Rachel and Joey are.
Bridesmaid Dress
Finding a modest bridesmaid dress is just as hard as finding a modest wedding dress.

I think it is heartbreaking to see "Christians" following the fads and trends boldly and unashamedly showing as much skin as is legally possible, in a church no less and a "Christian" wedding. Where is the "feminine mystery" anymore?

The dresses out there aren't even pretty. And the prices! Mercy.

So, alas and alack, after hours of web searching 'Beka came up empty handed.

Remember that family member who is a seamstress and sweet and gracious about sharing her sewing ability as a gift to others? Why didn't we think of that earlier?

Esther graciously was willing to take on the project.

Finding a suitable sewing dress pattern is also a trick. But one of the beauties of making the dress yourself is that you can make adjustments for modesty.

A pattern was found after several hours of searching. Isn't it wonderful that one can now spend hours on the internet looking at patterns rather than in a sewing store?

Guess what? 'Beka found this vintage 1960 pattern on ebay for $7.99!






Butterick 5875.
Evan-Picone Backless Gown.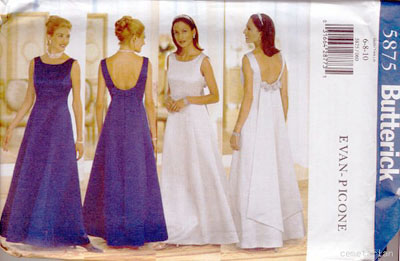 'Beka bought the fabric from Joanne's Fabric using 50% off coupons and spent about $50 for fabric, thread, zipper and lining material.

Esther raised the back of the dress up and lowered the front a little. 'Beka didn't add the train like thing on the back, but just left it plain. Esther spent hours on this dress, which, if we had paid a seamstress probably would have cost several hundred dollars, to be sure. Thank you, Esther!






Esther had 'Beka do many fittings.

A work of art in progress.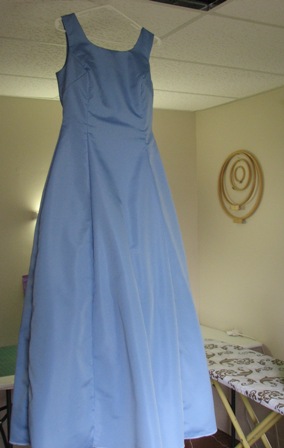 It brings my mother heart supreme joy to see some of my family members coming together sharing their talents and gifts in a perfume of service to and for their sister (or sister-n-law) Rachel.

Rachel and 'Beka had the idea of a shawl like thingy to add to the dress since it had no sleeves and it was winter; kind of Pride and Prejudice like shawl, if you know what I mean. This "shawl" was purchased on ebay for $20 and was the icing on the cake, as you can see below.










Flowers
Rachel wanted something really simple in regards to flowers. Since it was a winter wedding, she thought baby's breath would look really nice for herself and 'Beka. She asked Esther to make the bouquets and boutonnieres for her. Rachel opted to not do any flowers for the church, reception or any family members other than the bridal party. I thought this was fine and that very few people actually notice the extra flowers or corsages.

Rachel ordered several bunches of baby's breath from our local florist for $35. Ribbon, pins, and wires she purchased for $20 from Michaels Crafts.






The bouquets looked like
big bunches of snowflakes....
perfect!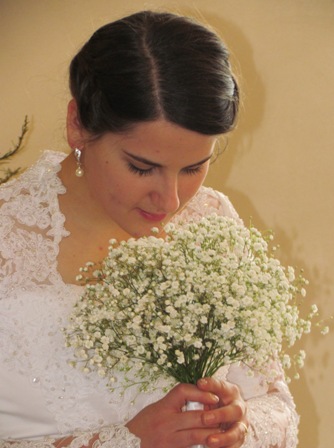 Coming up next, Rachel's Wedding, Part Three: Decorating. Catch you later!