Helen's Mulberry Lane Farm Journal
Rachel's Wedding; My Favorite Part
Rachel did something at her wedding that I had never seen done before. It was so special; it just brings me to tears just remembering it.

Normally, couples give out their gifts for family and the bridal party at the dress rehearsal dinner. Rachel and Joey decided to give out their gifts right after the dress rehearsal at the church and before we all left to go out to eat at Ryan's. Rachel had purposely set it up so that this "thank you" time was relaxed and somewhat private.

Amidst all the rush of wedding preparations, I thought it was so thoughtful and kind of Rachel and Joey to do this in such a beautiful, heartfelt way.

Rachel and Joey had gifts for all the families as well as the bridal party. They bought delicious cheese purchased from Wisconsin, the great dairy state, and the state where Joey and Rachel were to begin their married life. (Joey goes to engineering school in Milwaukee.)





It is more blessed to give than to receive
but I think you get more back than what you gave!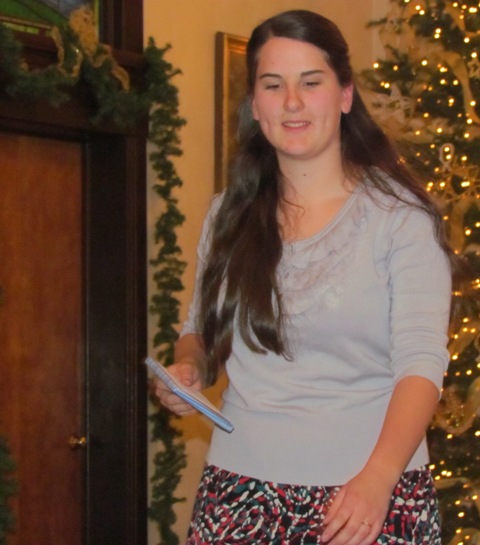 We were all sitting in pews after the rehearsal and Joey and Rachel started going around to each family, actually each person, and shared some special words and hugs with each one, even to the very youngest. The tears were flowing everywhere, let me tell you!

I don't think I have ever heard so many "I love yous" and such sincere "Thank yous" flowing in one room, all at the same time. It was an unbelievable sight and one I will cherish the rest of my life. Family....the most precious gift on earth. I'm so glad God thought of families.



How does a son thank a mother like Sonya,
who has devoted her life to him?
(Not to mention Joey's seven brothers!)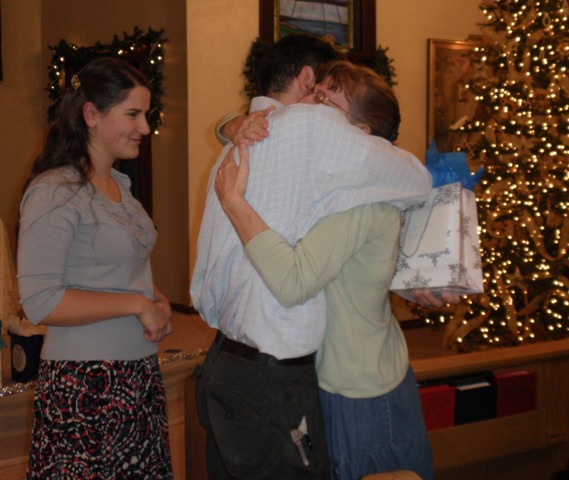 The father of the righteous will greatly rejoice,
And he who begets a wise child will delight in him.
Let your father and your mother be glad,
And let her who bore you rejoice.
My son, give me your heart,
And let your eyes observe my ways.

Proverbs 23: 24-26.
Sonya welcomes her very
first daughter-in-law into her family.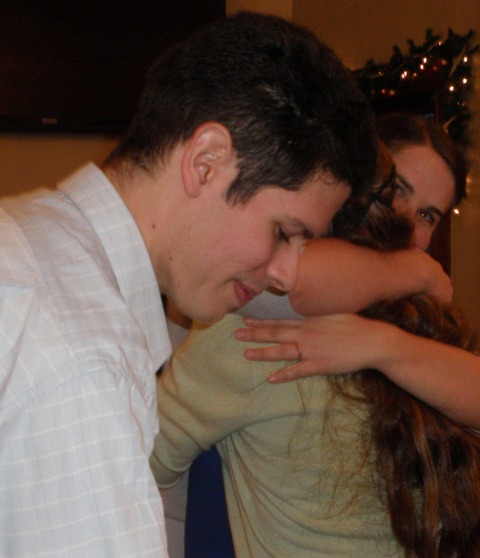 I have not known many devoted fathers like Joey Sr.
The respect and honor that Joey
gives his Dad is unsurpassed.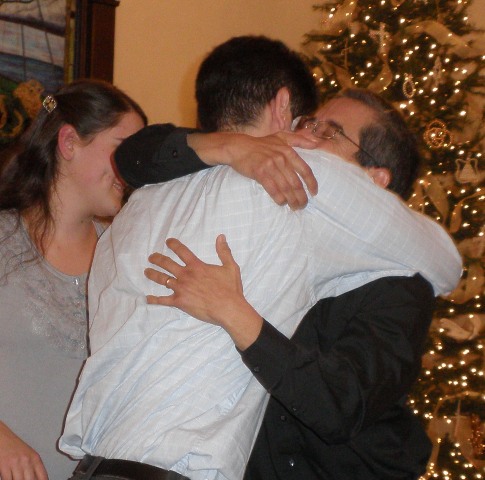 Joey Sr. was thrilled to welcome Rachel
into his heart and family.
Rachel, you are so blessed to be part of this precious family!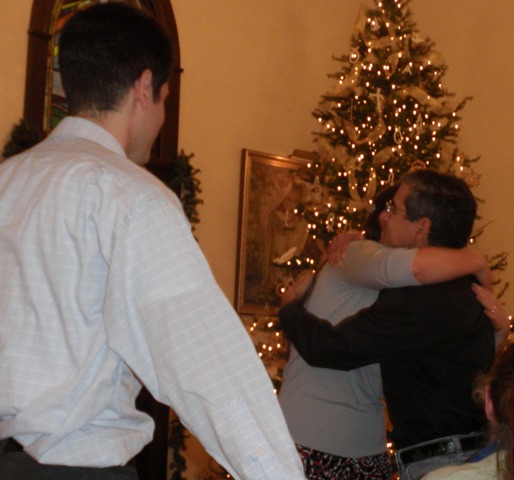 Rachel and Joey didn't leave anyone out, no matter how small;
Joey's wonderful brothers!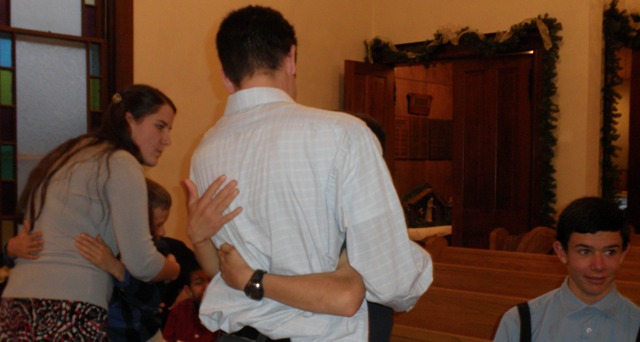 Joey's youngest brother, M.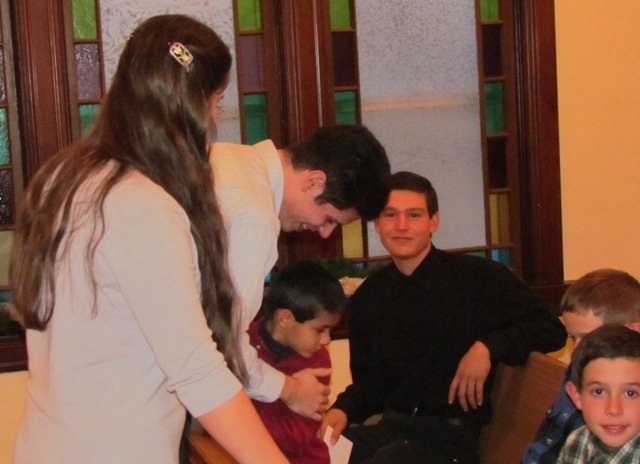 Rachel and Joey even thought of Christmas gifts
to share with family, the day before their wedding!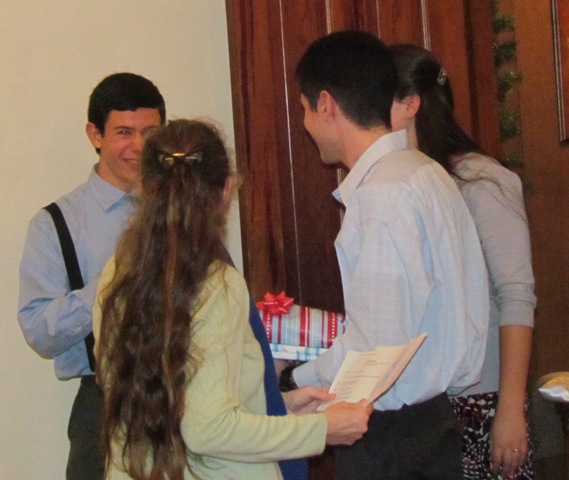 I was busy snapping pictures, so of course, the ones I was in didn't get taken. But here is one that I think 'Beka took.
Joey gives the warmest, most sincere hugs.
Gerald welcoming Joey to our clan.
And what a happy day for us.
I had just been given my thank you hugs, and you can see my tears.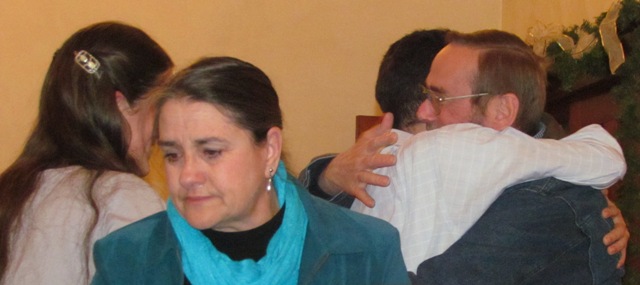 Our youngest son, Caleb,
already views Joey as his brother.
But now it is official!
Joey is kind and gracious to all and always has time to listen, even to kid brothers.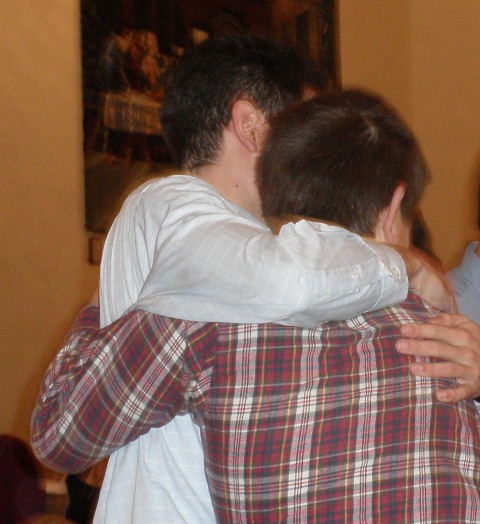 Sisters rejoicing together and sharing together.
Our oldest daughter, Jennifer, with our youngest daughter, Rachel.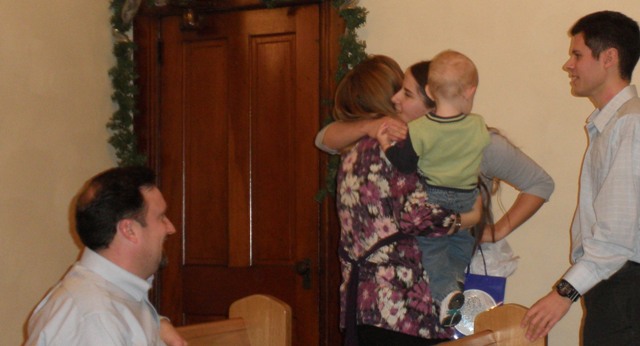 Joey greeting Jennifer's husband, Steve.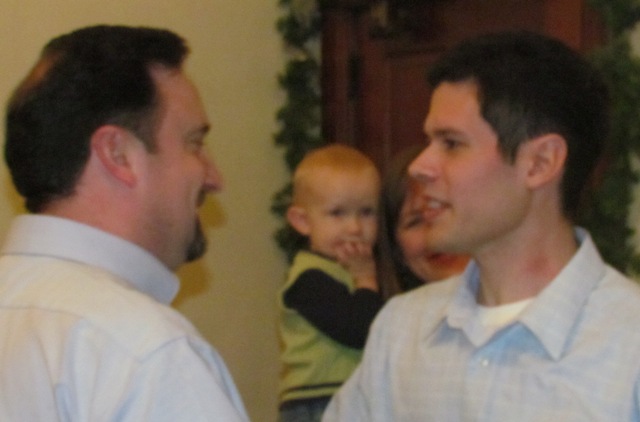 Rachel greeting Steve and thanking him
for doing the music for the wedding.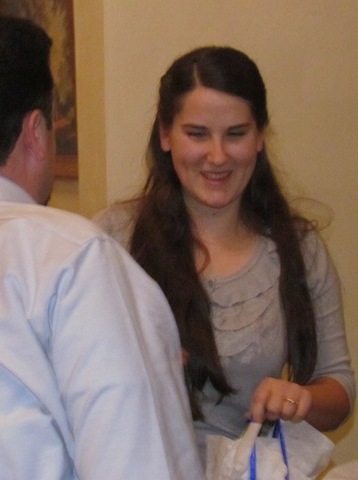 Even Pastor Steve got hugs.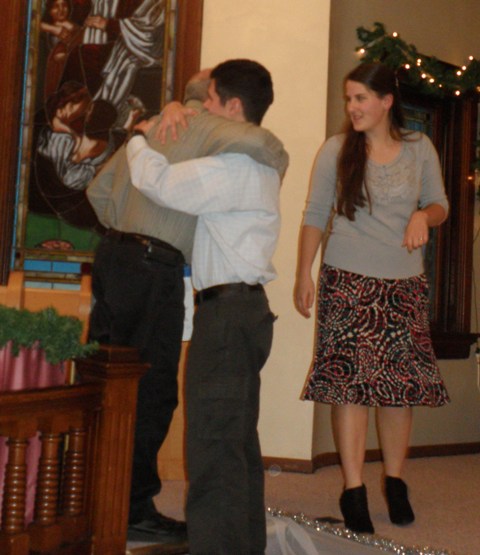 The Pastor commented to us after the wedding was over and all the clean up was done, that he had never seen before, in both bride and groom families, so much love, grace, helpfulness and just plain kindness to each other; especially during such normally "stressful" wedding events.

Isn't nice when people take the time pass on encouraging words like these? Thank you, Pastor Steve.

Rachel and Joey, thanks for the wonderful memories of that day; you both have great big hearts full of the love of Jesus.

All of this love...in a tiny little town....in a tiny little church....in two great BIG families.

Blessings,
Helen