Helen's Mulberry Lane Farm Journal
Family Life on the Farm
The older I get, the faster time flies. It's funny the nature of things. When you are young, time just can't go by fast enough. Can't wait to leave home. Can't wait to finish college. Can't wait to get married. Can't wait to have kids. Can't wait for the kids to grow up. Then all of a sudden, the can't waits turn into, "Oh my! I'm getting old and if only the clock would slow down a little bit!"

This summer was a memorable one. I turned sixty this summer. I had my twentieth grandchild. I celebrated forty years of marriage on August 10th.






Beautiful card from the Aardsma Five.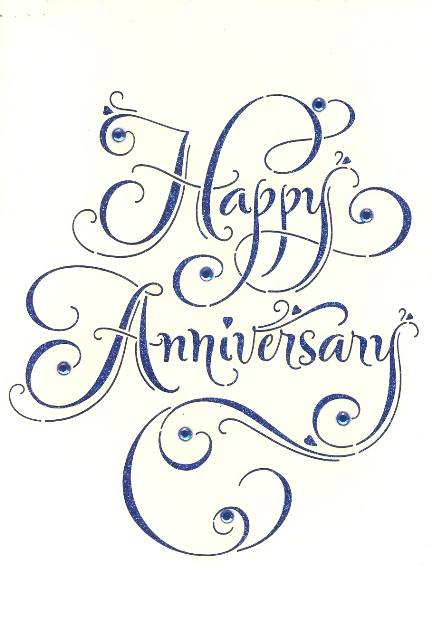 In 1974 I married an amazing man who continues to amaze me with his patience, kindness, gentleness, wisdom, abilities, intellect.....he's just plain, well....amazing! God has been so gracious to me. Gerald is truly the best gift God ever gave me.

It is hard to believe I have been married for forty years. Time flies when you are having fun! I don't even feel forty years old! But when I catch a glimpse of myself in the mirror, I know it must be true.






Sweet and thoughtful words from the Aardsma Five.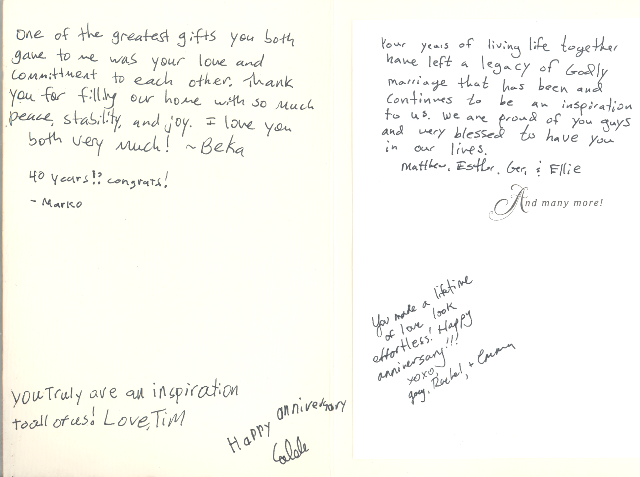 The other day, I met a neat young man around twenty or so, who came in the store. He was with his Dad. They were coming to pick several bushels of tomatoes. The young man told me, kind of shyly, that he had just gotten married.

I talked to him about how marriage (never mind young marriage!) is going out of style (co-habiting/move on when bored is the new style of "marriage"). I congratulated him and told him that marriage was a wonderful thing and that he needed to cherish and love his bride, through thick and thin and then when he got to be an old man, he could celebrate forty years of marriage and have something precious, strong, deep and wonderful. And that a good relationship does not just happen by magic but by committment, servanthood, and kindness. I told him that when you work through the tough, rough, dry times (he looked at me blankly, because he has yet to go through those times, and yes, they do come!) and you get to the other side, there waiting for you are more wonderful, hilarious, precious times waiting to happen. He got a free sermon with his tomatoes! He thanked me sincerely. I thought he was going to give me a hug. Poor man. So little support for such a wonderful institution that God graciously gave us. I think I made his day, maybe even his week!





Ecclesiastes 4:9-12

Two are better than one,
because they have a good return for their labor:
If either of them falls down,
one can help the other up.
But pity anyone who falls
and has no one to help them up.
Also, if two lie down together, they will keep warm.
But how can one keep warm alone?
Though one may be overpowered,
two can defend themselves.

A cord of three strands is not quickly broken.



I married at age twenty and Gerald was nineteen. We knew this was God's will for us. Many people thought we were crazy. We chose love over money. (We still do.) We married before Gerald's freshman year of university. We ate lots of pasta, worked "together" on his bachelors, his masters and eventually his doctorate, took long walks and were so glad to be together, all the time. No more goodbyes. (BTW, we had four children by the time Gerald graduated with his doctorate. If people thought we were crazy to marry young, when we had children while he was still in university, well they changed their opinion from "crazy" to "utterly insane." I have absolutely NO regrets on marrying young and having children young!)

People told us "you can't live on love!", but we proved them wrong. One can; as a matter of fact two can live cheaper on love than one!




Our wedding 40 years ago!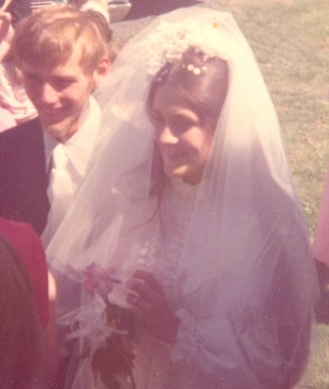 One of our marriage pacts was to never be apart from each other, if we could possibly help it. We have kept that pact these forty years and have rarely been apart. When we have been apart, it has been for a brief time only (a day or two) helping with grandchildren's births and the like. We still want to be together, all the time. I wish such joy and happiness for my own children in their marriages.




Our 40th wedding anniversary.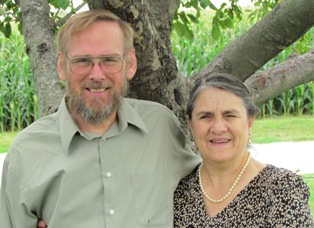 Roses from the Aardsma Five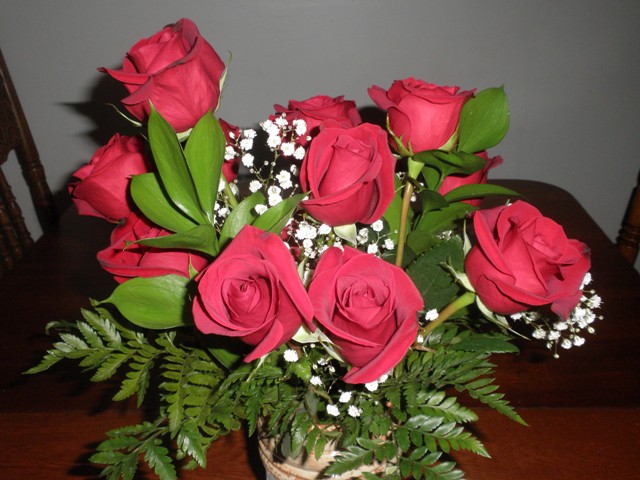 The Aardsma Five (Matt, 'Beka, Rachel, Tim & Caleb) came over for Labor Day weekend.
Labor Day weekend, 2014.
Back row: M., Caleb, Tim, Matthew (holding Ger) & Joey
Front row: 'Beka, Me, Gerald,
Esther (holding Ellie) and Rachel (holding Emma).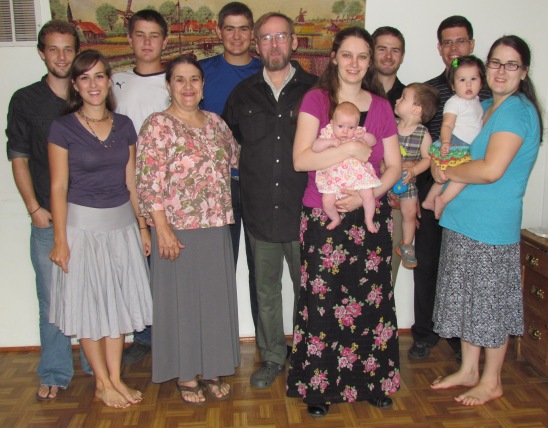 Now you can see who belongs to who.
I know it gets a little confusing in a big family!
Funny face Tim says "I don't belong to anyone!"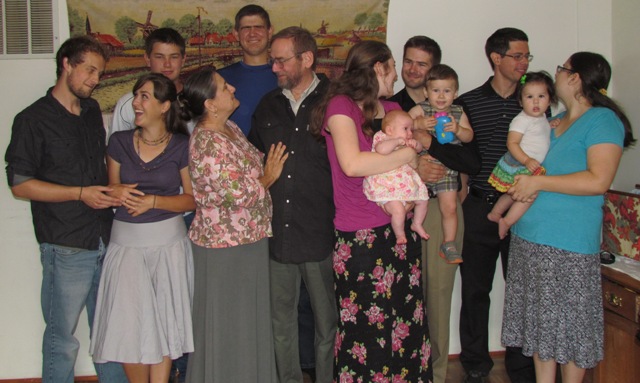 We enjoyed celebrating Rachel's 20th birthday over Labor Day weekend. Rachel, who loves to come home to cook in my "big kitchen" made chicken gyros. Delish! The flat bread was so good! Everyone was silent around the table as we ate. All that could be heard was mmmm and more mmmms. It was worse than Bob in the "What About Bob" movie. The gyros taste even better than they look.
Recipe here:
Everyone brought food and snacks to add to the party. Thanks everyone; the homemade food was wonderful!
We played a Carrom tournament. For the first time in years Joey (my son-in-law) and I actually lost. It was my own fault. I bragged too much ahead of time about how good we were! Pride comes before....kersplat!
We played Pictionary. Try drawing "rigor mortis" on your first draw. The drawer was laughing so hard the timer went off before the marker even hit the white board. (Ok, smarty pants. How would YOU draw rigor mortis?)
The guys did timed go cart trials (those competitive men!) outside on our dirt road. BUT! The ladies were not to be out done!



Esther, the wild go cart driver! Danica Patrick, watch out!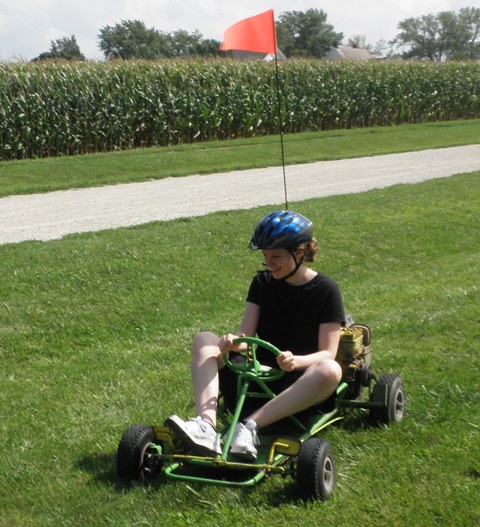 Esther, my daughter-in-law, joined the trials. After two natural childbirths, go cart racing is a breeze! Esther got to the end of the road and spun out, ending up in the ditch and then got stuck. We thought we would choke to death with laughter as Esther rocked back and forth to try to get out. She finally stood up, and with hands on her hips (watch out for a woman who has her hands on her hips!) indicated to Matthew to come push her out. Matthew ran down the road and pushed her out. She hopped back on the go cart and zoomed off, leaving Matthew in the dust. She was having the time of her life. That is what happens when you get cooped up in a small student apartment with a toddler and infant for too long. You go a little crazy when you escape!
'Beka was egged on by M. who told 'Beka she was not to be out done by Esther! ('Beka started dating M. this summer.) She was reluctant but finally got mad enough. She hitched up her long skirt, jumped on the go cart and zoomed down the road. She was zig zagging so bad, we thought she should flip the go cart. I'm glad she was wearing a helmet or I wouldn't have been laughing so hard. She raced back and as she whizzed by us yelled, "I'm going to die!" We thought she would end up with whiplash at the very least. I think those who were watching got the whiplash.

M. says, "You can do it, Beka!"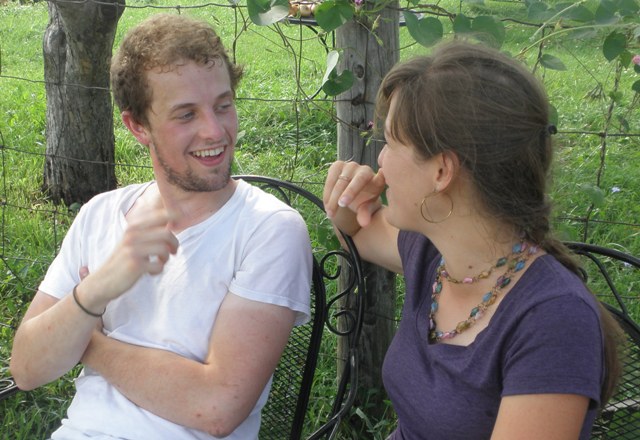 'Beka takes her turn, but only under duress!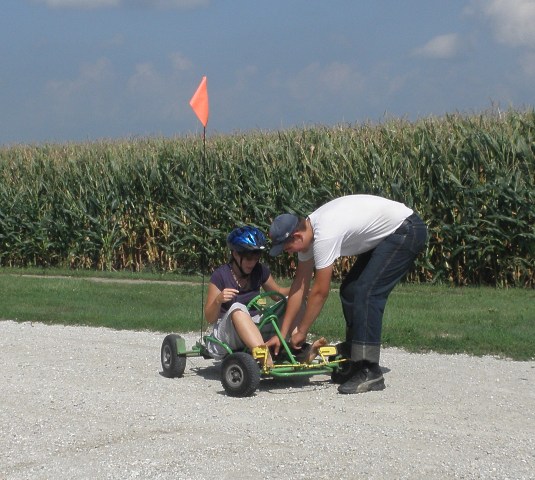 Emma says, "My Mom would never let me do that!"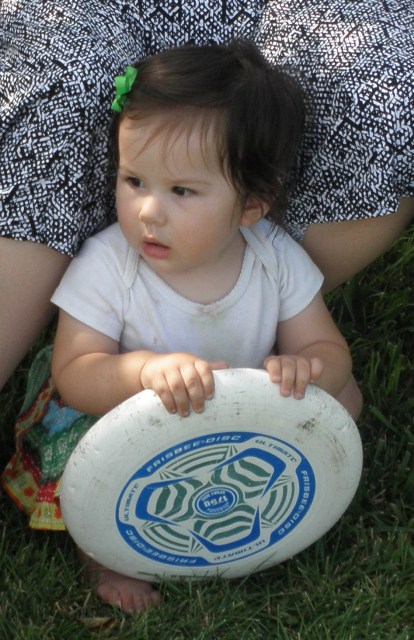 Ultimate frisbee was played by anyone crazy enough to do so in the high heat and humidity. Must be nice to be young. I was dripping with sweat as I watched them play.
To top everything off, the Aardsma Five did all the Sunday dinner preparations, including bringing all the food. They kicked Gerald and me out of the house, so I would NOT help and would stay out of the kitchen. Gerald and I went for a lovely leisurely bike ride while they made lunch. It was amazing! It was so relaxing and enjoyable.
Throughout the entire weekend there were more puns, jokes, and in-fun sarcasm than one family could live through without serious breathing issues. You never saw such a fun-loving group! Like Tim says, "Hilarity, but without the alcohol."
Little Ger and Emma; playful cousins!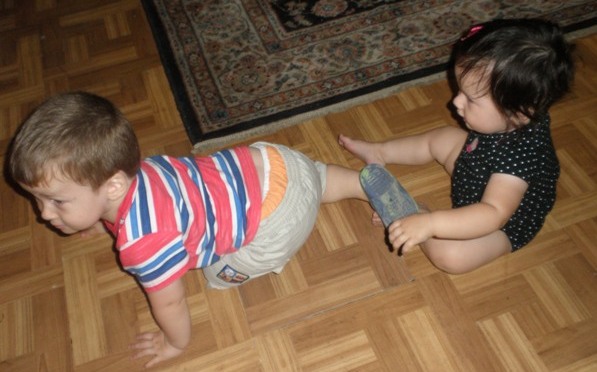 The grands are just grand! Watching those smiles, hearing their exuberant laughter (the greatest sound in the world!) as they were tickled and chased, offering my drink bottle to a slobbering toddler, playing ball on the floor and trying to teach the toddler to "throw it" back, chocolately faces, dirty feet, catching a toddler who flipped his high chair over (he and his mom had a scare, but he was fine due to a quick catch by 'Beka; Tim said he grabbed hold of his toe so he helped save him too!), and too many precious moments to write about them all. Grandchildren are the joy of old age.




Gerald reading to Little Ger (Matthew's)
and Emma (Rachel's).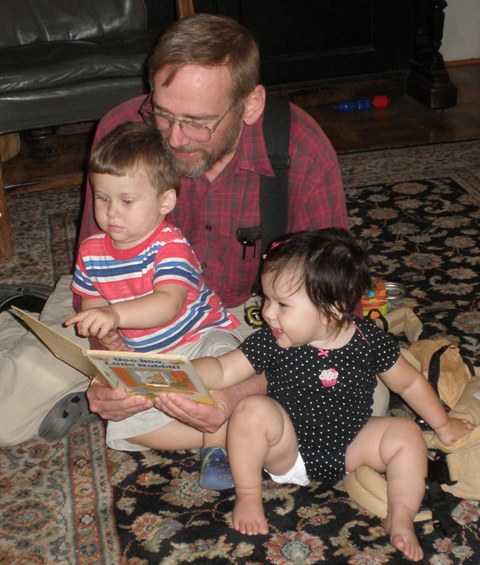 All in all a wonderful weekend. You moms out there know how it does your heart good to see family members responding selflessly to each other; helping a little one get a drink of water, reading a book to a toddler, birthday presents thoughtfully chosen and sacrificially given, helping with the mounds of food preparation and then the piles of dishes, picking up toys and books for the hundredth time, nursing and rocking a tired baby, helping Tim and Caleb with their animal chores, helping families as they depart, collect shoes, socks, toys, blankets, and on and on and on....exhibiting sweet love for each other. All this spells F.A.M.I.L.Y.
Thanks, dear family, for the great bunch that you are. I love you all to pieces! I'm so proud of the wonderful adults you have become. You give me more joy than I could possibly ever begin to tell you!
How I cherish these times. I will relive the memories of Labor Day weekend 2014 for many years to come.
Here are a few extra pictures.
Gerald had an afternoon nap amidst the hullabaloo.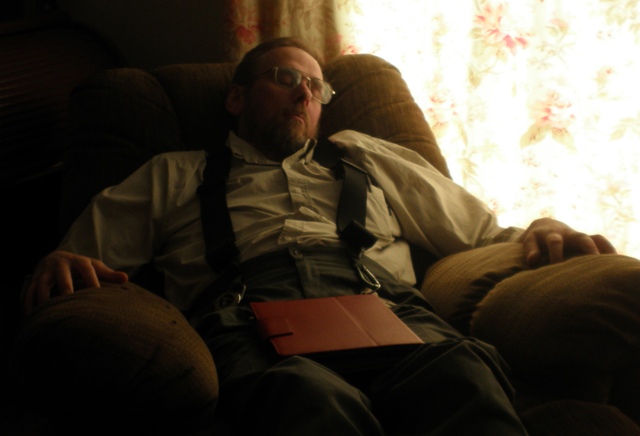 'Beka and Rachel doing some piano/song duets that they used to do when they were younger.
Sweet music by sweet sisters!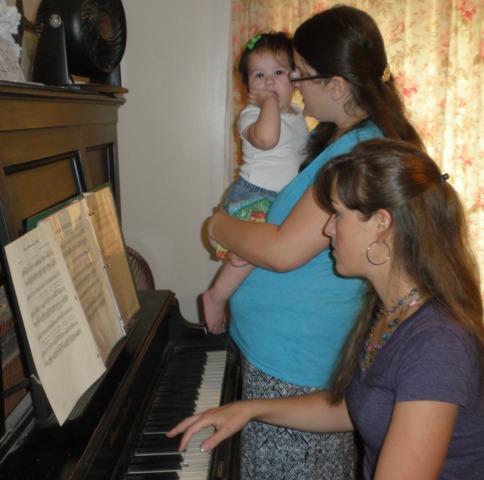 The techy guys having a look at some of Caleb's 3D design and graphics work.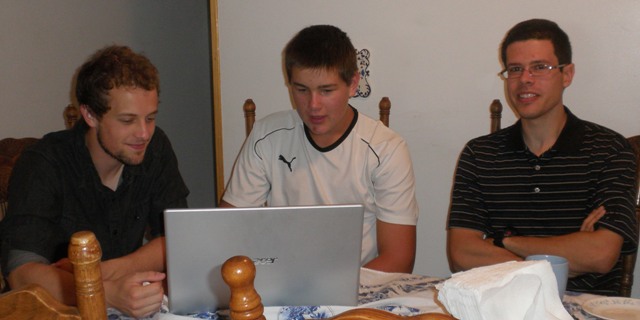 Now I'm ready to have a few catnaps myself.